shake – shout – vibrate
There's a soul revival a-comin' and standing at the forefront of the storm is the Switzerland based band Brandy Butler and The Fonxionaires. Playing originally composed sweet and rough old school 60's soul and then adding the sultry powerful vocals of Miss Brandy Butler (the Black American soul mama), you won't be able to help yourself from Hip Shakin, booty swinging, and soul struttin!
The Fonxionaires make hits. Numerous contemporary bands play soul music, recordings inspired by the classic singles of the Motown, Stax, Atlantic, and thousands of other regional U.S. record labels that forged the timeless R&B sounds of the 60s and 70s. But The Fonxionaires do something more. They take those sounds and ingeniously craft them into insistent, ingratiating music that light up the listener's spirits like a long-lost friend entering a room.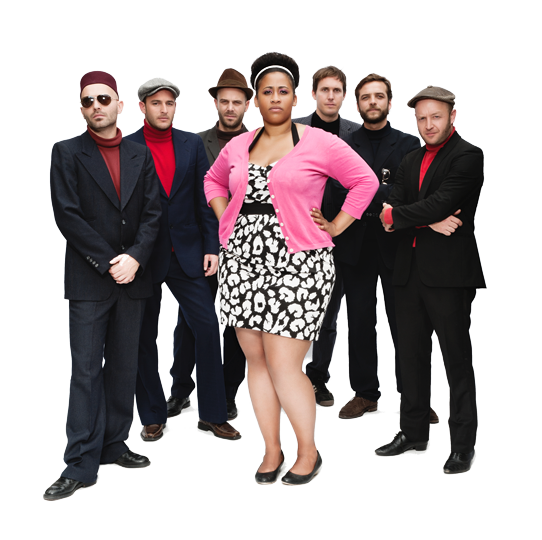 BRANDY BUTLER
lead vocals
HARD WORKIN MISTA DOM DOODIDL
guitar, vocals
IBN ARMIN
organ, harp, piano, toys
LI CAPONE
trumpet
STU STIFFLER
altosax
DON RAFFAELE
tenorsax
FRED
bass
BROOKLYN BOBBY
drums
«SOCKING SOUL POWER! Hot stomping rhythm & blues with a over the top vocal performance like there is no tomorrow. These guys really want to get to know how it was in the beginning. They got a bossgroove working, uptempo and sweating, they got MISS BRANDY BUTLER riding on it, screaming and crying, suffering and sighing, and they got horns driving it all right to the top. Man, whew, I mean I would expect that from anywhere but Switzerland.» Beatneck, Berlin